An investment made in real estate is considered synonymous with golden yields. For this reason, it has caught the attention of half of the world's population looking for a great way to earn passive income. Do you find yourselves drawn toward investing in real estate but don't know where to begin? Here are some of the best books on real estate investment for beginners, written by experts to ease your entry into the domain.
The ABCs of Real Estate Investing – Ken McElroy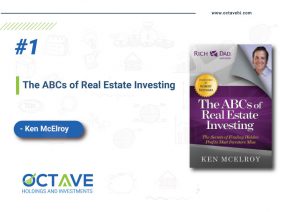 With his vision, wisdom, and subsequent success in the field of real estate, Ken McElroy has assumed the identity of a real estate guru. As the title of this book suggests, McElroy's book will hold your hand as you venture into real estate investment. The book covers all the basics, from choosing the right property to increasing income through the available property management tools. It also teaches you how to evaluate the purchasing price, negotiate the deals, and monetize from the investment made. The book is by far the most comprehensive if you're beginning your journey as a real estate investor.
How To Invest In Real Estate: The Ultimate Beginner's Guide To Getting Started – Brandon Turner and Joshua Dorkin
"How to Invest in Real Estate" by B. Turner and J. DorkinWorried about your first real estate investment experience? Many felt just like you. Turner and Dorkin have compiled the experiences of 40 first-time investors in their book – "How to Invest in Real Estate." So give it a read and master the basics of real estate investment in a matter of days. The book is packed with candid advice, tips, and strategies. It will surely boost your confidence and help you make an investment worth your money and while. To pick the right strategy, it's important to have your goals set before you begin reading. Read this book to discover innovative ways to make wealth out of your real estate investments. Enrolled in a 9-to-5 job? You can still make passive income with your asset.
The Book on Investing in Real Estate with No (and Low) Money Down – Brandon Turner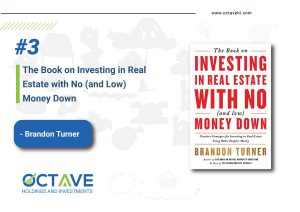 Who says investing in property is a sport exclusive to those loaded with cash? Turner debunks the myth and throws light on the fact that there are countless money lenders and private investors who'd gladly help you with your finances. All you have to do is intend! This is another great book that all prospective real estate investors must invest in. Evaluate the pros and cons, and choose the strategy that resonates with you. You'd be amazed to know how many masters of the field began their journeys in the same way.
Long-Distance Real Estate Investing – David Greene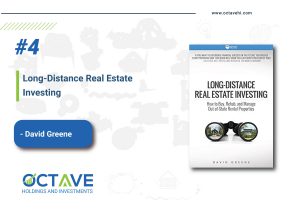 The author, David Greene, is a police officer who built a multi-million dollar portfolio simply by investing in real estate in and away from where he lives. Once upon a time, people preferred investing in real estate only in the city where they lived. However, according to Greene, those days have long been gone. In this book on real estate investment, he advocates investing in property away from your city. He has given his two cents on finding locations more likely to provide big returns. He has also shared accounts of certain common mistakes investors generally make and ways to avoid making them. Furthermore, the book also has insights into finding and seizing the right deals.
What Every Real Estate Investor Needs To Know About Cash Flow – Frank Gallinelli
Gallinelli has framed an extensive guide on evaluating the property's value, cash flow calculation, ideal long-term returns, capitalization rates, profitability index, and countless other things relevant to your investment. Aware that several of his readers may be newbies, he has included a section wherein he introduces them to the lingo. The heavily mathematical book also has a tinge of humor to keep the readers gripped. It's one of the best books on real estate investment and has been on several best-seller charts for a long time.
More books on Real Estate Investment
Here are some other books that may not have made it to our top 5 but are surely worth reading if you want to further your knowledge in real estate investing.
The Intelligent REIT Investor – Stephanie Krewson-Kelly and R. Brad Thomas
Want to invest in real estate but don't have time to look after the upkeep of the property? Why worry when the world has REITs (Real Estate Investment Trusts)? As per the authors, REITs are the best way to earn a handsome passive income. The investor can stay unbothered about the property's day-to-day operations and yet earn impressive passive income in the form of shareholder dividends. This is one of the best books on real estate investment trusts if you want to learn how they work, their history, the returns they render, how they reflect on your portfolio, the associated principles, etc. If you feel inspired to invest in REIT by the time you reach the end of this book, check out OctaveHI's Opportunity Funds.
The Millionaire Real Estate Investor – Gary Keller
Find the strategies employed by hundreds of investors in Gary Kelly's The Millionaire Real Estate Investor. This is a great book on real estate investment if you're looking for inspiration, motivation, direction, or guidance from the experts. The readers can also learn how to think like millionaires when investing, myths about investing in property, network-building strategies, and managing finances. This is surely going to be an insightful read!
Real Estate Investing for Dummies – Eric Tyson and Robert Griswold
The next one comes from the desk of Tyson and Griswold- the expert real estate investors. This fantastic book on real estate investing encompasses some reliable advice and strategies to help newbies with a pleasant investing experience. The investment principles elaborated in the book are ensuring one's own financial fitness before taking the plunge. The author advises investing in residential real estate first. One must choose the locations that best suit the investor's goals, etc. It's a slow cooking process. Neither should the investors make hasty decisions, nor should they expect instant results. The contents of this book will help you make better decisions when selecting, purchasing, and leasing the property. It will definitely enable you to plan your long-term real estate investment wisely. Got any more interesting books on real estate investment on your bookshelves? Share your favorite titles with us in the comments section. Click here to check out more of our
blogs
.